Posts for: September, 2019
By Garner Family Dentistry
September 16, 2019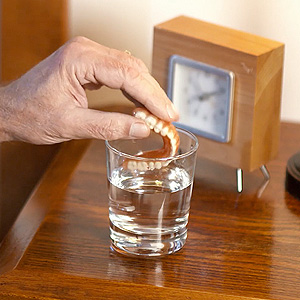 Dentures can be an effective and affordable solution for people who've lost all their teeth. With them a person can once again eat nutritiously, speak clearly and smile confidently — and with regular care they can last for years.
As part of that ongoing care, be sure you consider one important thing with your dentures: you may want to take them out at night while you sleep. If you do you'll lessen your chances of developing these 4 health problems.
Accelerated bone loss. Traditional dentures are fitted to rest securely on the gums. This, however, creates pressure on the gums and the bony ridges beneath them that can contribute to bone loss. Wearing dentures around the clock usually accelerates this process, which could eventually lead to among other problems looser denture fit and discomfort.
Bacterial and fungal growth. Microorganisms that cause oral diseases find conducive breeding spots on the underside of dentures while they're worn in the mouth. Studies have found that people who continuously wear their dentures are more likely to have bacterial plaque and oral yeast than those that don't.
Potentially dangerous infections. Bacterial and fungal growth increases your risk of oral infections that could affect more than your mouth. A recent study of elderly nursing home residents found those who wore their dentures during sleep were over twice as likely to develop serious cases of pneumonia requiring hospitalization. It's believed bacteria harbored on the dentures can pass from the mouth to the lungs as a person breathes over them while they sleep.
Blocked salivary flow. During the night our salivary flow naturally ebbs; wearing dentures while we sleep could cause denture stomatitis, in which the tissues covered by a denture (particularly along the roof of the mouth) become inflamed and infected with yeast. It's often accompanied by angular cheilitis or cracking at the corners of the mouth that becomes infected by the same yeast.
Wearing your dentures while you sleep contributes to conditions ranging from irritating to life-threatening. To prevent such problems clean your dentures as well as the rest of your mouth regularly — and talk to your dentist whether you should leave them out when you go to bed.
If you would like more information on denture care, please contact us or schedule an appointment for a consultation. You can also learn more about this topic by reading the Dear Doctor magazine article "Sleeping in Dentures."
By Garner Family Dentistry
September 06, 2019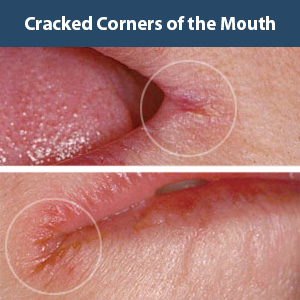 As dentists, we often see other mouth problems besides those with teeth and gums. One of the most common is cracking around the corners of the mouth. Although usually not serious, it can be irritating and uncomfortable.
Medically known as angular cheilitis (literally "an inflammation of the angles of the lip"), it's also called perleche, derived from the French lecher, "to lick." The latter moniker aptly describes the tendency of sufferers to compulsively lick the sores to relieve irritation, which actually can make things worse.
Perleche has a number of possible causes, mostly from in or around the mouth (although systemic diseases or medications can cause it on rare occasions). It's often found among younger people who drool during sleep or older people with deep wrinkles along the sides of the mouth that increase the chances of dryness and cracking. Long-term wind or cold exposure, ill-fitting dentures or a lack of back teeth (which help support facial structure) may also contribute to the condition.
Patients with perleche can also develop yeast infections from a strain called candida albicans. The infection can spread through the whole mouth, significantly increasing the chances of physical discomfort.
Treating perleche often involves topical ointments with inflammation-reducing steroids and zinc oxide, which has antifungal properties, to provide an environmental barrier during the healing process. If a yeast infection occurs, we may treat it with oral or topical antifungal medication like Nystatin for the whole mouth and chlorhexidine rinses, which has antibacterial properties.
It also helps to adopt a few preventive measures that can minimize the occurrence of perleche. If you wear dentures, for example, cleaning them often (including, if necessary, with chlorhexidine) and leaving them out at night reduces bacterial and fungal growth. We can also see if your dentures are fitting properly. Replacing missing teeth provides better facial support and could minimize wrinkling around the mouth. And, of course, keeping up daily brushing and flossing helps ensure a healthy and disease-free mouth.
If you're experiencing cracked mouth corners, let us know at your next appointment. With our help and of other medical professionals we may be able to give you relief from this irritating condition.
If you would like more information on gaining relief from angular cheilitis, please contact us or schedule an appointment for a consultation. You can also learn more about this topic by reading the Dear Doctor article "Cracked Corners of the Mouth."