Posts for: April, 2014
By Garner Family Dentistry
April 17, 2014
There's no dispute in most cases that dental implants are superior to removable dentures as a restoration for missing teeth. One area in particular is the effect a removable denture can have on remaining bone and other structures of the mouth, especially if their fit becomes loose.
If you're a denture wearer, you probably know that loose dentures are a major problem, one that can worsen the longer you wear them. The denture compresses the gum tissue it rests upon to produce forces that are more detrimental than what the jaw normally receives from natural teeth. The underlying bone will begin to dissolve (resorb) under these compressive forces. This in turn changes the dynamic of the denture's fit in the mouth, and you'll begin to notice the fit becoming looser over time.
The loose fit can be remedied with either the production of a new denture that updates the fit to the current structure of your jawbone or by relining the existing denture with new material. Relining can be done as a temporary measure with material added to the denture during your visit to the office, or as a more permanent solution in which the material is added at a dental laboratory. With the latter option, you would be without your dentures for at least a day or more.
Even if dental implants for multiple teeth aren't feasible for you financially, you do have other options. With one particular option, the removable lower denture can be held in place and supported by two strategically placed implants. Not only can this lessen the risk of developing a loose fitting denture, it may also alleviate most of the compression on the gum tissue and reduce the rate of bone resorption. The result is better function for eating and speaking and often a boost in self-confidence, as well as many more years of effective wear from your dentures by limiting bone loss.
If you would like more information on the effects and treatment of loose dentures, please contact us or schedule an appointment for a consultation. You can also learn more about this topic by reading the Dear Doctor magazine article "Loose Dentures."
By Garner Family Dentistry
April 02, 2014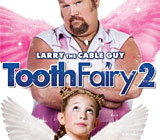 Did you know that severe tooth decay is America's #1 chronic childhood disease? Actress Brady Reiter didn't know either — until she became the star of the movie Tooth Fairy 2, and then joined forces with the National Children's Oral Health Foundation: America's ToothFairy®.
"Before, I didn't even realize what can happen to kids if they don't take care of their teeth," 11-year-old Brady recently told Dear Doctor magazine, after viewing photos of children suffering from severe tooth decay. "There are kids in America who don't know that it's important, or they just don't have the resources to be able to take care of their teeth or to go to the dentist."
This young Tooth Fairy knows just how magical — and vital to a child's self-esteem — a beautiful smile can be.
"When you feel bad about opening up your mouth and smiling, a kid's confidence just goes down the drain," she said.
NCOHF recently tapped 11-year-old Brady to head the America's ToothFairy Kids Club, which offers kids personalized letters from the Tooth Fairy along with lots of encouraging oral health tips and fun activities — free!
"I'm really excited to be part of it," Brady told Dear Doctor. "Kids learn how to take care of their of smile by joining this club. By supporting America's ToothFairy, we can help kids in need get dental care and have a healthy smile too. It's really amazing!"
While lots of kids get an occasional cavity, millions of children have tooth decay so severe that it interferes with their ability to eat, sleep, and concentrate in school. The good news is that tooth decay, a bacteria-induced infection, is preventable.
"When kids join the club, they learn how to prevent tooth decay. When families support this great cause, we can help kids in need. And that's what feels great — that we really can make kids' futures better."
If you would like to enroll your child in the club — it's free! — please visit www.AmericasToothFairyKids.org. And to make sure your child's teeth and your own are decay-free and as healthy as possible, please contact us today to schedule your next appointment.