Posts for: April, 2013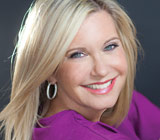 Though it's been a while since Olivia Newton-John sang her way into our hearts in the movie Grease, her smile is as radiant as ever. Today, Olivia is still singing, acting and busy with new ventures such as authoring a cookbook and raising money for the cancer center that bears her name in Melbourne, Australia. Whichever part of the world Olivia finds herself in, she protects that beautiful smile with an oral appliance that many find beneficial.
"I wear a nightguard to prevent wear on my teeth, custom-made by my dentist," Olivia recently told Dear Doctor magazine. "I love it!"
Olivia's device, also referred to as a bite (occlusal) guard, is designed for people who clench or grind their teeth at night, or during stressful periods. Made of thin, wear-resistant plastic, it is custom-made to fit exactly over your top teeth. This allows the bottom teeth to slide gently across the top teeth without biting into them. Not only does this prevent excessive tooth wear, it also helps relax the muscles of the jaw.
Grinding or "bruxing," as it's also called, can affect virtually any part of the oral system: the jaw joints or muscles, resulting in spasm and pain; the teeth themselves, resulting in wear, fractures or looseness; it can even cause an aching in the ears, head, neck or back.
If you are a teeth-grinder, you might not even know it unless a sleeping partner hears it or your dentist notices signs of wear. These habits are called "parafunctional" (para – outside, function – normal), meaning the biting forces it generates are well outside the normal range — sometimes as much as 10 times normal. So it's no wonder that damage to teeth can occur if they are not protected.
If you have any questions about grinding habits or nightguards, please contact us or schedule an appointment for a consultation. If you would like to read Dear Doctor's entire interview with Olivia Newton-John, please see "Olivia Newton-John." Dear Doctor also has more on "Stress & Tooth Habits."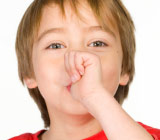 Are the following statements true or false?
Thumb sucking in children may cause problems with their teeth later on.
A: TRUE
Prolonged thumb sucking may be responsible for many problems with the bite. The constant pressure of the thumb itself can create a gap between the top and bottom teeth in front, a condition called an "open bite." It also reinforces the habit of using the "tongue thrust" motion in swallowing, where the tongue is positioned between top and bottom teeth. This habit may also block full eruption of the front teeth.
Infants and young children swallow exactly the same way that adults do.
A: FALSE
When they swallow, young children use what is called the "infantile swallowing pattern." In this method, which begins before their teeth have erupted, the tongue is thrust forward in the mouth, sealing and supporting the lips. In adult swallowing, the tongue touches the roof of the mouth, behind the front teeth. The transition from the infantile method usually happens naturally, by around age 4.
Most open bites result from the habit of positioning the tongue too far forward.
A: TRUE
Failure to transition between the infantile and adult swallowing pattern is believed to be the cause of most open bites. The tongue's position alone may prevent the front teeth from fully developing. Allowing the thumb to rest between the teeth has the same effect — and it can also push the front teeth forward. Other causes of an open bite are skeletal or jaw-related problems.
It is harder to cure open bites caused by thumb sucking or bad tongue position than those from other causes.
A: FALSE
Open bites that are caused by skeletal factors (patterns of bone growth, etc) are often difficult to resolve. Those caused by dental factors (tongue position, tooth eruption, etc) are generally easier to fix. However, the pressure exerted by the thumb over a long period of time can influence bone growth in the jaw.
There is a dental appliance that can help discourage thumb sucking.
A: TRUE
A thin metal "tongue crib" placed behind upper and lower incisors discourages the thumb-sucking habit. It also helps to "re-train" the tongue, keeping it from going between upper and lower teeth. To successfully treat an open bite caused by dental factors, and to prevent its reoccurrence, it is essential to eliminate the unhelpful habits of both the thumb and the tongue.
If you would like more information about thumb sucking or open-bite problems in children, please contact us or schedule an appointment for a consultation. You can also learn more about this topic by reading the Dear Doctor magazine article "How Thumb Sucking Affects The Bite."