Posts for tag: root canal
By Garner Family Dentistry
March 03, 2017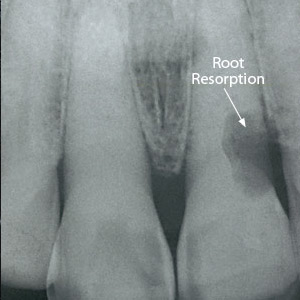 As a new permanent tooth develops, the roots undergo a process of breakdown and growth. As older cells dissolve (a process called resorption), they're replaced by newer cells laid down (deposition) as the jaw develops. Once the jaw development ends in early adulthood, root resorption normally stops. It's a concern, then, if it continues.
Abnormal root resorption most often begins outside of the tooth and works its way in, beginning usually around the neck-like (or cervical) region of the tooth. Also known as external cervical resorption (ECR), the condition usually shows first as pink spots where the enamel is being undermined. As these spots continue to erode, they develop into cavity-like areas.
While its causes haven't been fully confirmed, ECR has been linked to excessive pressure on teeth during orthodontic treatment, periodontal ligament trauma, teeth-grinding or other excessive force habits, and bleaching techniques performed inside a tooth. Fortunately, ECR is a rare occurrence, and most people who've had these problems won't experience it.
When it does occur, though, it must be treated as quickly as possible because the damage can progress swiftly. Treatment depends on the size and location of the resorption: a small site can often be treated by surgically accessing the tooth through the gum tissue and removing the offending tissue cells. This is often followed with tooth-colored dental material that's bonded to the tooth to replace lost structure.
A root canal treatment may be necessary if the damage has extended to the pulp, the tooth's interior. However, there's a point where the resorption becomes too extensive to save the tooth. In these cases, it may be necessary to remove the tooth and replace it with a dental implant or similar tooth restoration.
In its early stages, ECR may be difficult to detect, and even in cases where it's been diagnosed more advanced diagnostics like a CBCT scanner may be needed to gauge the extent of damage. In any case, it's important that you have your teeth examined on a regular basis, at least twice a year. In the rare chance you've developed ECR, the quicker it's found and treatment begun, the better your chances of preserving the tooth.
If you would like more information on root resorption, please contact us or schedule an appointment for a consultation.
By Garner Family Dentistry
June 01, 2015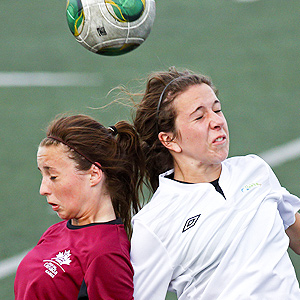 If you regularly participate in sports or other physical activity, you're at a higher risk for dental injuries. While chipped teeth are the most common result of these injuries, a few may result in more serious trauma — dislodged, cracked or knocked out teeth. In these cases, the core of the tooth — the pulp — and the root may have been damaged. Saving the tooth may require endodontic treatment and possibly the expertise of a specialist in the field, an endodontist.
Endodontics, from the Greek words for "within" and "tooth," is a specialty of dentistry that treats disease or damage affecting the inner parts of a tooth, particularly the pulp chamber, the root canals, and the root. While all dentists are trained in endodontic procedures, an endodontist has advanced training, experience and specialized equipment to address complex cases.
The type of endodontic treatment needed for an injured tooth will depend on the extent of damage. A mature, permanent tooth with pulp damage, for example, may require a root canal treatment. In this procedure the pulp chamber and root canals are thoroughly cleaned out, and then are filled with a special filling to prevent any future infection. Later the tooth should be crowned to permanently seal it. Although a general dentist may perform a root canal, more complex cases, such as a tooth with an extensive root canal network, may need to be performed by an endodontist using microscopic equipment.
A tooth that has undergone severe trauma, especially a knocked out tooth, will need extensive follow-up care by a general dentist and possibly an endodontist to improve its chances of long-term survival. Because of the severity, the tooth may lose viability and the body ultimately may begin to reject it. For this reason, the tooth should be monitored on a regular basis and may need further treatment from time to time, even up to five years after the injury.
One final word: if you participate in sports or exercise activity, you can significantly reduce your risk of dental injury with a mouthguard. There are various types, but the best protection is one custom designed to fit the specific contours of your mouth. We'll be glad to advise you further on how to protect your teeth from injury.
If you would like more information on dental injury prevention and treatment, please contact us or schedule an appointment for a consultation. You can also learn more about this topic by reading the Dear Doctor magazine article "Trauma & Nerve Damage to Teeth."
By Garner Family Dentistry
September 23, 2014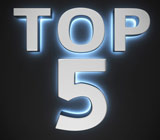 So you came in to the dental office for an exam, and now you've been told you need a root canal. But you're wondering: Do I really have to do this? I've heard all sorts of things about the procedure. What if I wait a while — would that be so bad?
The answer is: It just might! Whenever we dentists recommend a root canal procedure, we have good reasons for doing so. Here are the top five reasons why you shouldn't delay getting this important treatment.
The tooth is infected and dying; a root canal stops the infection. While the outer layers of the tooth are hard, the inner pulp is made of soft, living tissue. This tissue sometimes becomes infected (through deep decay, cracks in the tooth surface, etc.), and begins to die. Once that happens, treatment is needed right away — to stop the pain, control the infection, and keep it from spreading.
Root Canal Treatment Alleviates Pain. That's right: Root canal treatment doesn't cause pain — it relieves it. The procedure is relatively painless, despite the old stories you might have heard. In fact, it's not unlike having a cavity treated, though it may take a little longer. So if you're experiencing tooth pain (a major symptom in most cases of root canal trouble), remember that the sooner you get it treated, the sooner you'll be pain-free.
It won't get better on its own… If you ignore some things, they will go away. Root canal problems aren't one of those things. In some cases, if you wait long enough, the pain will go away. But that's not a good sign, because the problem won't go away on its own; it simply means that the nerves inside the tooth are all dead. The infection continues to smolder like glowing coals in a fire.
…But it could get worse. Left untreated, bacteria from the infected tooth pulp can travel through the roots of the tooth and into the tissue of the gums and jaw. That can cause a painful, pus-filled abscess to form, which will require urgent treatment. In extreme cases, It can also result in increasing systemic (whole-body) inflammation, potentially putting you at risk for more serious conditions, like heart disease and stroke.
Root Canal Treatment Can Save the Tooth. If you neglect treatment of a root canal problem long enough, you're at serious risk for losing the infected tooth. And tooth loss, once it starts, can bring on a host of other problems — like an increased risk of tooth decay on remaining teeth, as well as gum disease, bite problems… and, as oral health problems escalate, even more tooth loss. Why put yourself at risk?
If you would like more information about root canal treatment, call our office for a consultation. You can learn more in the Dear Doctor magazine articles "A Step-By-Step Guide To Root Canal Treatment" and "Tooth Pain? Don't Wait!"