Posts for tag: dental crowns
By Garner Family Dentistry
November 05, 2018
Damaged teeth are embarrassing, but modern dentistry has state of the art technology to help you deal with this issue. Dr. Cynthia
Garner offers her patients dental crowns at her Mount Pleasant, SC, office to mask and protect unsightly teeth.
Dental Crowns in Mount Pleasant
A dental crown is made out of porcelain or ceramic. Unlike veneers, however, crowns don't just cover the front of your teeth. They're caps that fit over the unattractive, decayed or damaged tooth. Crowns can even be used to replace a missing tooth when your dentist places a dental bridge over your gums.
There are three steps to getting your unsightly tooth capped:
Your dentist will numb the area surrounding the tooth and begin preparing the tooth. This is done to reshape the tooth so it fits under the crown. If there isn't very much natural tooth to begin with, your dentist will use a filling material to build up whatever exists of the natural tooth.
A crown is designed at a laboratory using impressions taken of your teeth. The impressions are taken digitally or with the use of a putty-like material and are used as a guide so that laboratory technicians can mold a crown that'll fit perfectly over your tooth.
The permanent crown is cemented over the tooth using a specific type of cement or resin.
Dental Care
Improve your dental care by brushing twice a day and flossing at least once before bed. In addition to maintaining a healthy oral regimen, make sure to visit your dentist twice a year for your bi-annual examination, and dental cleaning.
Advantages
Besides making your smile more aesthetically pleasing, crowns have other advantages:
They're used to cover restorative procedures such as root canals and dental implants.
Several crowns can be used if you have more than one tooth that needs to be covered.
They give your teeth reinforcement, therefore improving your bite and capability to chew.
If you have any questions or concerns, call Dr. Cynthia Garner at her Mount Pleasant, SC, office today!
By Garner Family Dentistry
May 30, 2017
Find out if your smile could benefit from getting dental crowns.
While most people know what a dental crown is, they don't often know when it's the best way to restore or improve their smile. Our Mount Pleasant, SC, cosmetic and family dentist Dr. Cynthia Garner is here to provide a little more insight into getting dental crowns and why they are sometimes necessary to improve tooth function and enhance your smile.
What is a dental crown?
A dental crown is designed to look just like the crown of a real tooth. A crown will also be custom-made to fit over and fully enclose a tooth to protect it. This restoration can be made from different materials (e.g. ; porcelain; ceramic, porcelain fused to metal), depending on the tooth that needs to be treated and other lifestyle factors.
All crowns are also customized to fit over your tooth, so you know that when you turn to Dr. Garner at Garner Family Dentistry, LLC, you will always get a beautiful cosmetic restoration that functions and feels natural.
When is a dental crown needed?
There are many situations that may warrant needing a dental crown:
If you have a broken or cracked tooth that needs additional protection in order to be fully functional
To protect a tooth that has weakened due to decay, teeth grinding or jaw clenching
To preserve a tooth after root canal treatment
To hold a dental bridge in place
To improve the appearance of a malformed, misshapen or badly discolored tooth
To cover a dental implant (when replacing a single missing tooth)
How do you get a dental crown?
Your treatment plan will really depend on what needs to happen prior to getting your crown, sometimes we need to go into the tooth and remove an infected dental pulp (root canal therapy). Traditionally, a tooth needs to be prepped so that the crown can comfortably fit over the tooth. Once the tooth has been prepared, we will need to take impressions of the tooth using a special mold.
This mold will be necessary for the dental lab to create your custom-fitted dental crown. Once the crown is made, you will come back in so that we can check the fit and make any necessary adjustments before cementing the restoration into place.
If you have questions about getting dental crowns or other cosmetic options in Mount Pleasant, SC, then it's time you called Garner Family Dentistry to learn more. Not only will a crown look and feel great, but it could positively impact your oral health.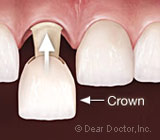 Creating a dental crown that looks good and wears well is not an easy achievement. It is the result of good communication you, the patient, have with us, your dental professionals, and that we have with the dental lab that manufactures the crown. In addition, it reflects the quality of work done by us and by the lab technician.
What is a dental crown?
A crown is a dental restoration that surrounds the remains of a damaged tooth or is attached to a dental implant so that it resembles a natural tooth as it extends above the gum line. The choice of materials and appearance of the crown depend upon many factors. One is the location of the crown. If it is in the back part of your jaw, strength and wear will be a major factor. If it is in the front, a life-like appearance will be important.
What goes into making a good-looking and functional crown?
Options for crown materials include porcelain, gold, porcelain fused to metal (called PFM) and some newer materials such as "pressed-ceramic" restorations and computer-milled-ceramics.
You as the patient can have a say in choosing the crown's color and appearance. Before it is cemented into its final position, make sure you are happy with the feel and appearance of your new crown.
Gold is often chosen for crowns on back teeth because of its superior wear qualities. Gold crowns have been known to last more than 50 years. They also cause minimal wear to the teeth that they touch on the opposing jaw.
Crowns made of porcelain (a glass-like substance fired in an oven at a high temperature) look good but may be too brittle to stand the wear and forces given to back teeth. Like glass, they can fracture under pressure. But because of their lifelike appearance they make a good choice for visible front teeth.
PFM (porcelain-fused-to-metal crowns) are a good combination of the best of gold and porcelain, but they sometimes lose the stains applied to make them look natural, and occasionally they fracture away from the metal.
A provisional crown can help you make sure you are getting a crown with the qualities you want. With the provisional crown all the details are worked out ahead of time, and you get a chance to try them out to make sure the crown looks good and that you can eat and talk normally. After you give your approval on the provisional crown, the final crown will be made to match it, in longer-lasting and better quality components.
Contact us today to schedule an appointment to discuss your questions about crowns and other dental restorations. You can also learn more by reading the Dear Doctor magazine article "Gold or Porcelain Crowns."