Posts for: April, 2018
By Garner Family Dentistry
April 24, 2018
Not long ago the dental bridge was the alternative treatment of choice to partial dentures for restoring lost teeth. Over the last few decades, however, dental implants have nudged bridgework out of this premier spot.
That doesn't mean, though, that bridgework has gone the way of the horse and buggy. In fact, it may still be a solid restorative alternative to partial dentures for certain people.
A traditional bridge consists of a series of porcelain crowns affixed to each other like pickets in a fence. The end crowns are fitted onto the teeth on either side of the empty tooth space; known as abutment teeth, they support the bridge. The crowns in the middle, known as pontics (from the French for "bridge"), replace the teeth that have been lost.
Bridges have been an effective and cosmetically pleasing method for tooth replacement for nearly a century. To achieve those results, though, a good portion of the abutment teeth's structure must be removed to accommodate the crowns. This permanently alters these teeth, so they'll require a restoration from that point on.
Dental implants, on the other hand, can be installed in the missing space without impacting any neighboring teeth. What's more, implants provide greater support to the underlying bone than can be achieved with bridgework.
But not everyone is a viable candidate for implants, and ironically the reason most often has to do with the bone. If a patient has suffered significant bone volume loss, either because of disease or the long-term absence of the natural teeth, there may not be enough bone to properly support an implant. Unless we can adequately restore this lost bone volume through grafting, we'll need to consider another type of restoration.
That's where bridgework could be a viable option for patients in this or similar situations. With continuing advances in materials and new applications, the traditional bridge still remains an effective and important means to restore a smile marred by missing teeth.
If you would like more information on dental restoration options, please contact us or schedule an appointment for a consultation. You can also learn more about this topic by reading the Dear Doctor magazine article "Crowns & Bridgework."
By Garner Family Dentistry
April 14, 2018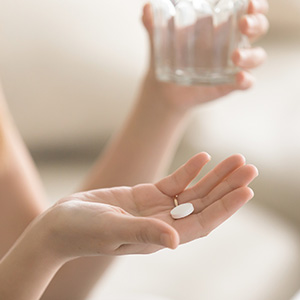 Because the mouth is one of the most sensitive areas of the body, we go to great lengths to eliminate pain and discomfort associated with dental work. Anesthesia, both local and general, can achieve this during the actual procedure—but what about afterward while you're recuperating?
While a few procedures may require prescription opioids or steroids to manage discomfort after a procedure, most patients need only a mild over-the-counter (OTC) pain reliever. There are several brands available from a group of medicines called non-steroidal anti-inflammatory drugs (NSAIDs). NSAIDs like aspirin or ibuprofen work by blocking the release of prostaglandins into the body, which cause inflammation in tissues that have been damaged or injured.
Unlike their stronger counterparts, NSAIDs have fewer side-effects, cost less and aren't addictive. And unlike opioids NSAIDs don't impair consciousness, meaning patients can usually resume normal activities more quickly.
But although they're less dangerous than opioids or steroids, NSAIDs can cause problems if taken at too strong a dose for too long. Its major side effect is interference with the blood's clotting mechanism, known as "thinning the blood." If a NSAID is used over a period of weeks, this effect could trigger excessive external and internal bleeding, as well as damage the stomach lining leading to ulcers. Ibuprofen in particular can damage the kidneys over a period of time.
To minimize this risk, adults should take no more than 2400 milligrams of a NSAID daily (less for children) and only for a short period of time unless directed otherwise by a physician. For most patients, a single, 400 milligram dose of ibuprofen can safely and effectively relieve moderate to severe discomfort for about 5 hours.
Some patients should avoid taking a NSAID: pregnant women, those with a history of stomach or intestinal bleeding, or heart disease (especially if following a daily low dose aspirin regimen). If you have any of these conditions or similar concerns, be sure you discuss this with your dentist before your procedure for an alternative method for pain management.
If you would like more information on managing discomfort after dental procedures, please contact us or schedule an appointment for a consultation. You can also learn more about this topic by reading the Dear Doctor magazine article "Treating Pain with Ibuprofen."