Posts for: January, 2013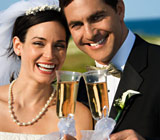 In a recent online poll conducted by Dear Doctor, the premier oral healthcare resource for consumers, 77% of those polled planned on visiting their dentist prior to their wedding. For some, this includes a thorough cleaning to remove stains and freshen both their smile and breath. However, a growing number of brides, grooms, and parents of the couple are seeking cosmetic dentistry or more specifically, a smile makeover, to transform their smile for their special day as well as their future.
If this describes your situation, take the first step towards the smile you have always wanted. To create your ideal smile, we will first meet with you to get to know you better and hear your concerns, goals, expectations and wedding day timeline. Bringing in photos or magazine images of smiles that you consider beautiful will help to ensure that we understand what you find attractive, as beauty can vary greatly from individual to individual. During this initial consultation, you will also learn about your smile makeover treatment options and what you could expect immediately prior, during and following each option.
Some subtle improvements we may consider are teeth whitening and bonding. Both of these options can take place in just a few office visits and produce very attractive results. Porcelain veneers and crowns can provide you with longer-term results that can last from 10 to 20 years. However, because they typically require 1 to 4 months advance notice, it is important to see us as soon as possible to ensure you have enough time before your special day. Another procedure that can play a dramatic role in your smile makeover is periodontal plastic surgery to improve and alter your gum tissues and their relationship to your teeth. For example, the appearance of "short" teeth can be corrected by lengthening them during a surgical procedure that has minor discomfort yet results in a life-long change.
Want to learn more?
Contact us today to discuss your smile makeover questions or to schedule an appointment. You can also learn more by reading the Dear Doctor article, "Planning Your Wedding Day Smile."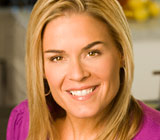 Cat Cora, philanthropist, author, chef, restaurateur and the first female chef on the Food Network's hit series Iron Chef America is a dynamo driven by a desire to change people's lives for the better. And she is no different when it comes to tackling her most challenging role: caring for the needs of her four active young sons. This includes monitoring the food they eat, their oral hygiene habits and protecting their teeth from injuries.
During an interview with Dear Doctor magazine, Cat describes a backyard accident in which one of her boys, Zoran, was accidentally knocked in the mouth by another child while jumping on the family's trampoline. While her son was not seriously injured, it did cause her to take proactive steps to avoid future injuries. She had her dentist make a custom-fitted mouthguard to protect his newly erupted adult teeth. He now wears the mouthguard while on the trampoline and when playing soccer.
If you and/or your children routinely participate in contact sports — boxing, football, hockey, lacrosse, soccer, water polo, rugby and basketball, for example — or other forms of vigorous physical activity, you too should consider getting a professionally made mouthguard. A properly fitted mouthguard can help prevent injuries to the jaws, lips and teeth. And unlike those cumbersome "boil and bite" mouthguards you can purchase at a drugstore, the ones we make will stay in place, making it easier for you to breathe and talk.
If you are still not convinced, consider these facts: According to the American Dental Association, an athlete is 60 times more likely to suffer harm to the teeth when not wearing a mouthguard. And the US Centers for Disease Control reports that sports-related dental injuries account for more than 600,000 visits to the emergency room each year. Furthermore, people who do not have a knocked out tooth properly reserved or replanted may face a lifetime cost of $10,000 to $20,000 per tooth, according to the National Youth Sports Foundation for Safety.
To learn more about mouthguards, continue reading the Dear Doctor magazine article "Mouthguards." Or if you are interested in obtaining a mouthguard for yourself and/or your child, contact us today to schedule an appointment. And to read the entire interview with Cat Cora, please see the article "Cat Cora."