Posts for: December, 2012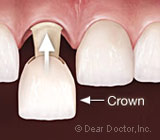 Creating a dental crown that looks good and wears well is not an easy achievement. It is the result of good communication you, the patient, have with us, your dental professionals, and that we have with the dental lab that manufactures the crown. In addition, it reflects the quality of work done by us and by the lab technician.
What is a dental crown?
A crown is a dental restoration that surrounds the remains of a damaged tooth or is attached to a dental implant so that it resembles a natural tooth as it extends above the gum line. The choice of materials and appearance of the crown depend upon many factors. One is the location of the crown. If it is in the back part of your jaw, strength and wear will be a major factor. If it is in the front, a life-like appearance will be important.
What goes into making a good-looking and functional crown?
Options for crown materials include porcelain, gold, porcelain fused to metal (called PFM) and some newer materials such as "pressed-ceramic" restorations and computer-milled-ceramics.
You as the patient can have a say in choosing the crown's color and appearance. Before it is cemented into its final position, make sure you are happy with the feel and appearance of your new crown.
Gold is often chosen for crowns on back teeth because of its superior wear qualities. Gold crowns have been known to last more than 50 years. They also cause minimal wear to the teeth that they touch on the opposing jaw.
Crowns made of porcelain (a glass-like substance fired in an oven at a high temperature) look good but may be too brittle to stand the wear and forces given to back teeth. Like glass, they can fracture under pressure. But because of their lifelike appearance they make a good choice for visible front teeth.
PFM (porcelain-fused-to-metal crowns) are a good combination of the best of gold and porcelain, but they sometimes lose the stains applied to make them look natural, and occasionally they fracture away from the metal.
A provisional crown can help you make sure you are getting a crown with the qualities you want. With the provisional crown all the details are worked out ahead of time, and you get a chance to try them out to make sure the crown looks good and that you can eat and talk normally. After you give your approval on the provisional crown, the final crown will be made to match it, in longer-lasting and better quality components.
Contact us today to schedule an appointment to discuss your questions about crowns and other dental restorations. You can also learn more by reading the Dear Doctor magazine article "Gold or Porcelain Crowns."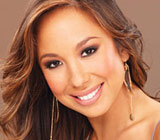 Growing up with a dentist stepdad, Cheryl Burke of Dancing with the Stars heard a lot over the years about the importance of good oral hygiene — in particular, the benefits of using dental floss.
"My dad would say, 'make sure you floss,' but I never really listened to him. I was very, very stubborn," Cheryl told Dear Doctor magazine recently in an exclusive interview. Cheryl admits this stubbornness took its toll, in the form of tooth decay. "I definitely had my share of cavities," Cheryl recalled.
Cavities can form when food particles, particularly sugar and carbohydrates, are not effectively cleaned from the spaces between teeth. These particles are then broken down by bacteria naturally present in the mouth, resulting in the production of acids that attack the tooth enamel.
When she reached her twenties, Cheryl decided she really needed to step up her oral hygiene and cultivate an asset so important to a professional dancer: a beautiful smile. And once she did, cavities became a distant memory.
"I think when you do floss frequently, it helps to reduce the chances of getting cavities," Cheryl said. "It took me a while to figure it out." Now Cheryl flosses after every meal. "I carry floss with me wherever I go. I have no shame busting out my floss in the middle of a restaurant!" She declared.
Dental decay is actually a worldwide epidemic, especially among kids. Untreated, it can lead to pain, tooth loss, and, because it is an infectious disease, it may even have more serious systemic (whole body) health consequences. The good thing is that it is entirely preventable through good oral hygiene at home and regular professional cleanings here at the office.
If it has been a while since you or your children have seen us for a cleaning and check-up, or you just want to learn more about preventing tooth decay, please contact us to schedule an appointment for a consultation. If you would like to read Dear Doctor's entire interview with Cheryl Burke, please see "Cheryl Burke." Dear Doctor also has more on "Tooth Decay: The World's Oldest & Most Widespread Disease."